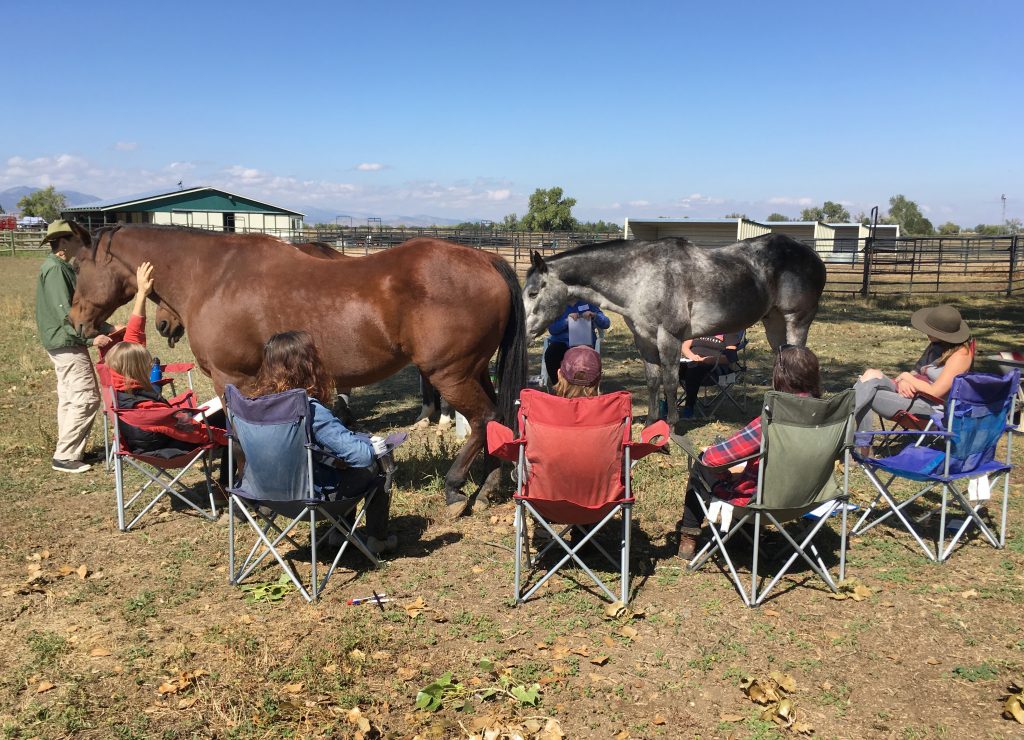 I offer a variety of groups and workshops where people interact with horses to access deep healing for body based trauma, as well as to deepen one's capacity for embodiment, connection and vitality. These groups offer tools and resources to lessen the experiences of anxiety, depression, self-aggression and shame based behaviors.
---
I have a deep passion for working in groups. Studying anthropology as an undergraduate, I saw that humans evolved in groups, wired for connection and dependence. We have moved in groups, eaten in groups, hunted & gathered and lived communally for thousands of years before settling into isolated communities and individual households. I have seen healing move forward exponentially when people share their stories, their experiences and their suffering with others. Isolation for humans in unnatural and the loneliness that is experienced leads to challenges in our mental health.
I offer many types of groups, mostly integrating the powerful presence of horses. Group work with horses, be it ongoing or for a day, creates a safe and powerful environment for healing. Horses have evolved to live in herds and thus are highly evolved to attune to the safety of their immediate surroundings. Humans entering this space enter into this finely perceived environment and the horse can easily gage individual energies as well as that of the group. A horse "knows" what that person's emotional, psychological and feeling state is in regards to safety and congruency. Depending upon the human's awareness to, and relationship to those states, the horse will respond. This gives immediate information for facilitator and participant and the healing begins.
One long time group participant said "I didn't even know that I needed what the horse gave me. This has happened over and over again…"
Because of our (humans') capacity to think and contemplate, we can get stuck in our past experiences or in anxiety about the future. Many of us are actually unaware of how we really feel, both in body sensations and emotions in relationship to the experiences, some highly traumatic, we have had. We are, though, well aware of how these experiences manifest in our lives to disrupt our health, vitality, capacity to connection and resiliency.
Please consider joining a group to experience the profound healing that can occur with others and in the presence of horses in a safe, accepting environment. Check out the drop down menu for my current groups!